Market transformation through C.A.S.E. trends in the automotive supply industry continues
The automotive industry is characterized by high market dynamics, and trends such as Connectivity, Autonomous driving, Shared mobility and, of course, the transition from combustion engine technology to Electrification (C.A.S.E.).
Automotive suppliers: strategy adaptation through M&As
Automotive suppliers are responding to these major market changes by adapting their strategies. An important tool for implementing a new strategy is through M&A transactions.
The importance of automotive supplier M&A is highlighted in Bain's Automotive M&A Report 2023. The volume of M&A transactions and the number of deals in the automotive supplier industry from 2017 to 2021 typically exceed the volume and deals of automotive OEMs, technology providers, or dealers year after year.
M&A activity was at a high level, except for a pandemic-related decline in 2020, followed by an increase in transactions in 2021. Acquisition activity also declined in 2022. According to AlixPartners, there were 730 M&A transactions in the supplier industry in 2022, down from more than 1,063 in 2021, and deal value halved from $156 billion to $78 billion.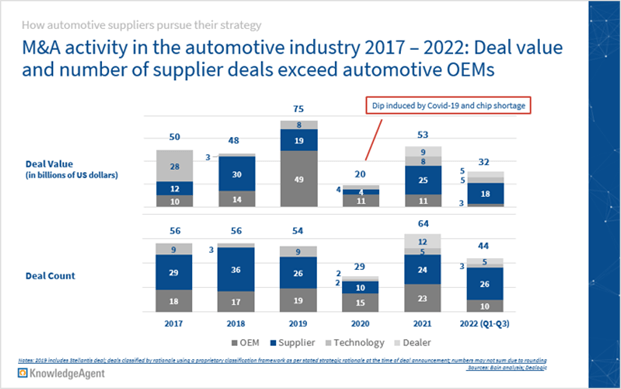 In recent years, there has been a shift during this period from acquisitions primarily focused on building new capabilities, additional market share and customer relationships, to acquisitions focused on emerging technologies and C.A.S.E. trends. The change in acquisition purpose is the result of the adjustment of the suppliers' strategy.
Insights about acquired targets and rationales for acquisitions
As M&A transactions become increasingly important for automotive suppliers to manage the transformation of the automotive industry, the KnowledgeAgent Automotive Team has gathered selected 2017–2022 acquisitions of five major car suppliers per region, providing insights about acquired targets and rationales for the completed acquisitions.
2017–2022 acquisitions undertaken by these top five automotive suppliers focused on other suppliers as well as key emergent technologies, with focus on electrification and autonomous vehicles.
The KnowledgeAgent Automotive Team has summarized the findings in a research brief which can be downloaded here.
Do you have questions regarding the report or would you like to get to know the KnowledgeAgent Automotive Team? Don't hesitate to contact us!